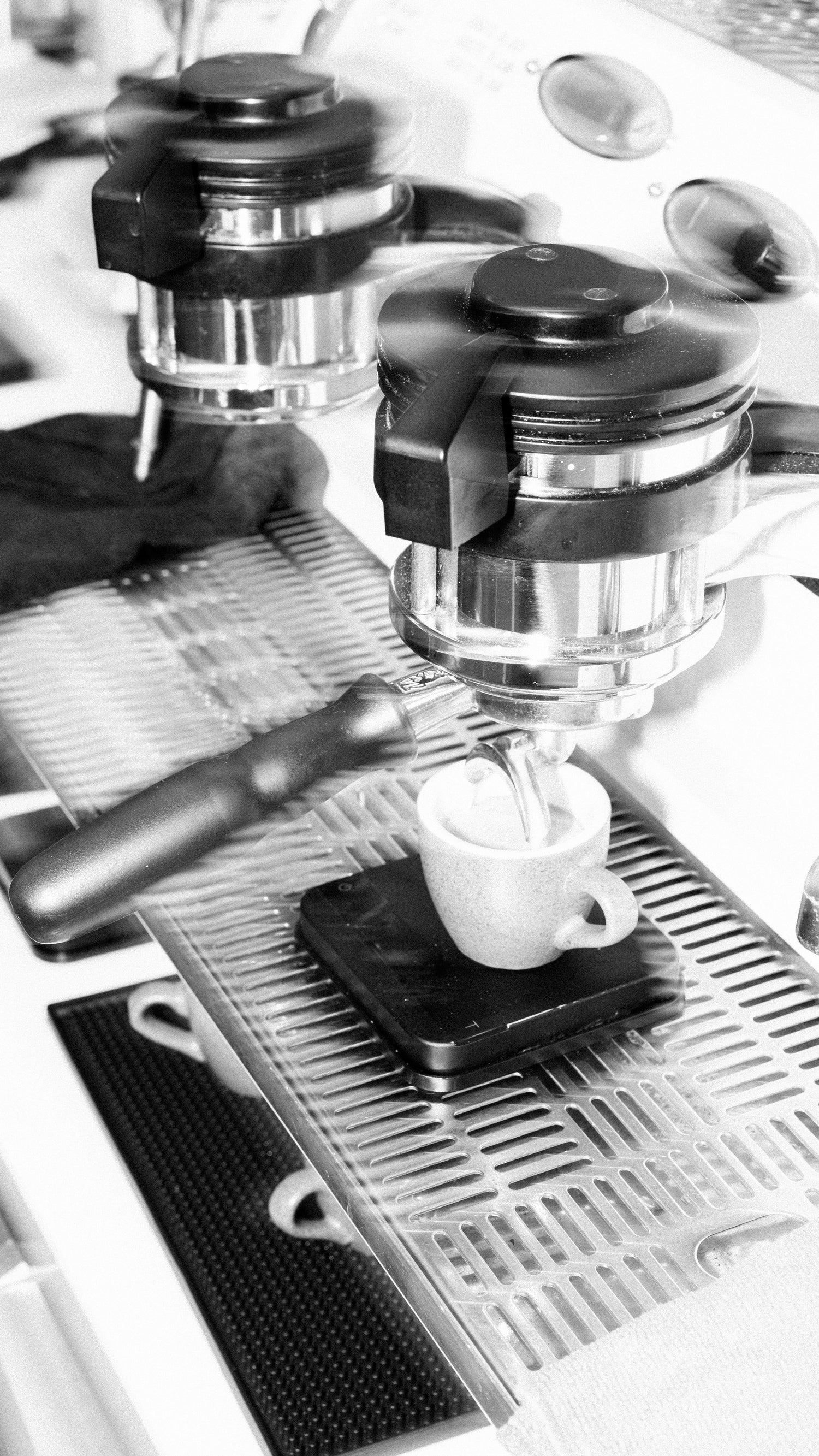 Nous sommes toujours à la recherche des meilleurs cafés. Nous  discutons entre nous. Nous partageons nos idées. Nous commandons.Nous torréfions. Nous infusons. Nous goutons. Nous partageons nos impressions. Nous re-torréfions...Cela fait bientôt dix ans que nous faisons cela et c'est juste le début. Il n'y a pas de destination à ce voyage. La quête du meilleur café est devenu notre métier et notre façon de vivre. 
We are endlessly looking for good coffees. We Talk. We share. We order. We roast. We cup. We talk. We brew . We talk. We roast...  We been doing this for close to ten years now and it's just the begining. There is obviously no destination for this quest so the search is just our way of life now. 
De Bons Cafés. Pour nous c'est un café qui sort du lot sur la table de dégustation et un café qui impressionne notre palais. On ne prend pas en compte l'histoire derrière le café ou le marketing. Nous sélectionnons à l'aveugle. Nous choisissons les bons partenaires qui importent les cafés et ceux qui cultivent les cafés et nous leur faisons confiance pour mettre les bonnes intentions et les bonnes actions en amont et en aval pour protéger les Hommes et la Nature. Mais nous oublions tout cela sur la table de cupping. Seul le goût compte.
Good coffees. For us it's a coffee that stands out on the cupping table and shines in the cup. With no story telling. We trust our partners growing coffees to do a good work with good ways and safe practices for nature and humans. But we forget about that when we try the coffees. It has to be about the taste only. 
Plaisirs égoistes. Nous ne pensons jamais au marché...ni aux clients. Notre choix est purement égoiste. C'est pour nous. Nous recherchons d'abord notre plaisir et notre enthousiasme. Nous allons boire ces cafés tous les jours pendant des mois. Il faut que nous les aimions pour les acheter. 
Selfish pleasure. We never think about market or customers. The choice is entirely selfish. It's for us. We need to be excited about it. We will drink this coffee everyday for months. We need to love it to buy it. 
Les gens que nous aimons boivent nos cafés. Nos amis. Nos familles. Nos collègues. Nos clients. Mais nous pensons que nous leur devons plus que simplement leur donner ce qu'ils veulent. Notre valuer ajoutée pour eux et pour le marché c'est que nous partons de ce que nous nous voulons offrir. Notre travail. Notre réflexion. Notre chemin vers la qualité. Vers notre propre satisfaction. Nous offrons notre café. En espérant que cela plaira. 
People we love will do to. Our friends. Our families.  Our partners. Our customers. But we owe them to not just give them what they want. Our added value to them and to the market is to offer something else. Our work. Our path to quality. And to goodness. And it might take you to stranger, fruitier, boozier, sparklinger coffees thant you thought you liked but you might very well remember this coffee years from now...ant it will not be because of marketing or a tagline cause we got none.